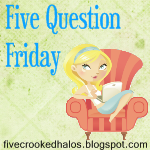 I'm so happy its friday! I need a relaxing weekend. It wont be so relaxing though. Lance and I have so much stuff to do on the new house! You guys are gonna die when you see what we have done to this house! We have pretty much ripped it inside out! We are completely re-doing out bedroom, cadens room, and the kitchen. And we are painting the bathroom. I can't wait for it to all be done so I can show yall before and after pictures! I'm also excited because it's
Mama M's
Five Question Friday! Go check her out if you haven't already!
1. Do you sing karaoke? If so, what is your go to song?
I have been in a karaoke bar before and watched people sing but never did. I was like 13. I'm not sure if I would have the guts to get up in front of a bunch of people and humiliate myself by trying to sing. I'm a horrible singer. But I think if it were a bunch of my girlfriends together, I would go for it!
2. What is your favorite coffee drink?
This is a toughy! I love my coffee w/ just one splenda packet and some french vanilla creamer...yum yum! Then i also like the frappe's from mcdonalds. Lance got me a frappe machine for Christmas and I love it!! You can make all kinds of frappes!
3. If you could choose your own name, what would it be?
Hm.. I'm not sure. I think I would stick to Kasey just because my mom named me that. But I love Ava. I think i'm going to end up naming my daughter that. It's just so pretty to me!
4. Were you ever bullied?
Jr. High was a bad time for me. Girls are evil in jr. high. Always talking about you behind your back, then friends to your face. I had a girl that constantly picked on me and talked so much crap to my best friend about me and tried taking her away. I FINALLY got the guts to stand up to her and she finally backed down. Then I had another girl that always acted like my friend in High School but she was always jealous of me that she even got my boyfriend to break up with me. When she sees me in my small town, she always tries to say hi and talk... i don't give her a time of day. haha.
5. How often do you eat fast food?
Alot. Shame Shame. I really have been trying to stop. My life is just so busy sometimes, I feel thats the quickest way to eat. I'm starting to read Jillian Michaels Winning by Losing, and she teaches you all kinds of stuff! So I hope that helps me learn how to shop for groceries and cook better!
I hope everyone has a fabulous weekend!