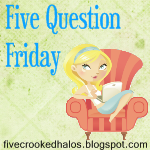 I'm participating in Five Question Friday today! I haven't been able to do a Five Question Friday in weeks! I totally miss it.
1. What do you think makes a good friend, or friendship?
Trust! If you can't trust your friend, then theres no friendship there! My best friend knows every secret about me..and i know their safe with her.
2. What is the last thing you bought & later regretted?
The french fries last night. well actually, lance bought them, but I ate them. I've been doing so good with my dieting and those fries made me regret it. But I had a little to much wine last night as I was home by myself, folding laundry, and watching Dear John, so I figured I should eat a little something. lol!
Oh, and I have lost 10 pounds in one month! whoo hoo!
3. Have you ever had a prank played on you?
Oh yes, alot of them! They are to long of stories though, so i'll pass on this one.
4. What is your favorite theme park?
I haven't been to a theme park in forever! But I would have to say six flags. Only because of the memories I had there with my family and my great grandma.
5. Have you ever seen someone else give birth?
No, but I want to! I think I have decided I am going to let my best friend be in the room while I give birth. She said she would love to see someone else give birth besides her. So I hope with her next child, she will let me be in there! I think I would make a pretty good coach!
Stop by
Mama M's
blog and check her out!
Have a fabulous weekend everyone!