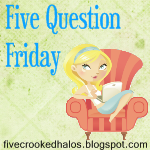 I've got a few minutes before I leave work, so
i'm
going to post Five Question Friday! I've been so busy today that I completely forgot about it! Head over to
Mama M's
blog to check her out!
1. Whats your favorite horror movie?
I'm not really sure! I
dont
really have a favorite? I haven't watched one in forever, even though I love them. I would say the Screams, or The Grudge!

2. Bath tub or Hot tub?
Bath tub. Only because I was listening to Dr. Oz the other day on my
XM
, and he said that
syphilis
(spell check?) can get transferred through hot tubs because they never get cleaned, and that totally freaked me out!

3. Do you prefer to view a movie at the theater or at home?
Both, if I REALLY want to see a movie at the theatre
i'll
go watch it, or if I want to go on a date. But I love renting from Red Box and watching them at home.

4. If you could chose a maid, cook or chauffeur, which one would you choose?
Maid! It seems that I have no time to clean anymore with school going on.
5. Electric Slide, Boot

Scootin

' Boogie, or the

Macarena

?
Macarena
! reminds me of when I was little and used to dance to that all the time!
haha
!
P.S.
i'm
about to leave and go see my sis for her birthday. My mom is down so
i'm
very excited we all get to spend the weekend together!
yay
!