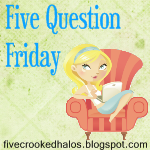 Ahh Friday! So happy it's friday! It's been a crazy week for me. Between school, orthopedic surgeon, more school, MRI at the hospital, school again. Today was a good day. I got up, went and go my MRI done, then HURRIED off to school to make up a test I missed due to the MRI. Thankfully I have a sweet teacher that let me make it up an hour late. Tonight i'm going to get my house cleaned so that I can put up my christmas tree tomorrow! I always wait til after Thanksgiving, but my mom is coming in from Alabama and I don't feel like messing with it when she's here. So tomorrow I have a free day, so i'm just going to do it then! Well today is Five Question Friday. Head to
Mama M's
blog and check her out. She's cool! The rules: Copy the questions, paste them to your blog, answer them, then head to Mama M's blog and link up! Hope everyone has a great weekend!
P.S. How do you like my new header? I'm not to sure about it, but it will do until I can make a really good one, with good pictures!
1. Are you a Black Friday shopper?
I've never gotten up early and went shopping, i'll wait til I have kids to do that. But i've been looking around and if I see anything on sale that I really want, i'll get up and go get it! I've been shopping for the last 2 months for Christmas!
2. What was your favorite childhood toy? (Think Easy Bake Oven, Cabbage Patch Kid, Shrinky Dinks, etc.)
This may not count, but probably outside. I was such a tomboy when I was little. I was outside every chance I got. We had a playhouse outside and I stayed in that 24/7! We had woods by our house, that I used to go "hiking" in. Haha! awww i miss those good ole' days.
3. Favorite Christmas movie?
The Grinch! haha. Love that movie.
4. What is the "must have" item on your Christmas list this year?
I really haven't thought about what I really want. I need some new Uggs. I have no boots to wear for winter. And I found this robe from Victoria Secrets that I fell IN LOVVVEEE with! It was amazing. So maybe someone will get that for me *hint hint* Lance *hint hint* :)
5. Do you go all out with decorations or do you keep it simple and classy?
I want to go all out with decorations, but I dont have the money to just go blow it. I get a lot of stuff from Lance's mom. Then if I find some stuff for cheap, i'll get it! I'm hoping to put Christmas lights up on the house this year. I can't wait to be able to go all out! I love decorating for holidays!